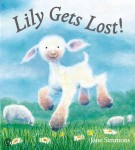 Lily Gets Lost is now out in paperback!
Lily is so curious she has to see what is though the hedge, behind the reeds, in the barn, but then where is she? How will she find her way home? 
Here is me painting the cover…..
Music by The Anorexics http://www.cdbaby.com/Artist/TheAnorexics.