Ship's Cat Doris                            2010
Doris is taken from his mother one stormy night, to an old fishing boat in a small Cornish boatyard. This is to be his new home, with the Captain and Boson, a couple of dogs and a chicken. Will he ever fit in with a life on the water?
"How Doris grows up and finds a place in the world is an absorbing and satisfying read and the small black and white illustrations help inexperienced readers along." – for Ship's Cat Doris in Carousel
"A charming read." – SCD / Books For Keeps
"Very appealing" – SCD / Irish Times
Here are some illustrations in the book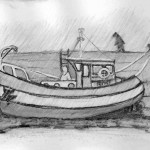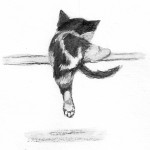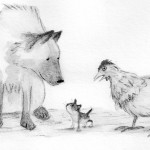 Beryl Goes Wild                           2008
Beryl escapes from a lorry heading to the abattoir, only to be thrown injured and exhausted, into a scary wild world she knows nothing about.
"Kooky and totally hilarious – we want more Beryl books, please!" – Beryl Goes Wild / National Geographic Kids
Here are some illustrations from the book.