Public events for 2013
Feb 18th Bookreading, storytelling and live illustration, Imagine Festival – Southbank, London. http://www.southbankcentre.co.uk/whats-on/imagine-family-workshops-70873
4th – 20th April Exhibition – Illustrationcupboard, 22 Bury St, St James's, London  SW1Y 6AL  www.illustrationcupboard.com
13th April Family Event Day at the Illustrationcupboard.
21st April The Hoo's Kids Book Fest – Luton Hoo Walled garden. http://www.hoobookfest.org.uk/
20th August Edinburgh International Book Festival.
Here are some Daisy activity sheets to printout…
Daisy Difference Sheet pdf pdf  Help Daisy Maze pdf pdf
New Daisy Colouring Sheet 2 pdf pdf   New Daisy Colouring Sheet 3 pdf pdf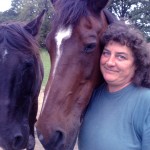 I am available for school and library visits, university visits, workshops, interviews, festivals and any type of children's illustration/writing event.
My workshops and talks have had a wide range of age groups.
Some of the things I've done….
Book reading, storytelling and painting with pre-school and Reception. One time at Newquay Zoo with a penguin in the class.
Talking with KS1, KS2, KS3, KS4 and undergraduates about children's book writing, illustration and the process of pre-publication work.
Painting and drawing with adult art groups. 
I have been interviewed over the phone for radio stations in the US and in person by Publishing News, Carousel and Books for Keeps.
After many years of travelling the Mediterranean, writing and illustrating at sea, I have moved north. I now spend most of my time in Normandy, France  still writing and illustrating, but also trying to transform a barn into a dwelling and look after and train 4 donkeys, a horse, 3 dogs and, of course, Doris the cat. I do cross the channel and I'm more than happy to come and share with children and adults the strange world of creating illustrations, characters, stories and books.
I am happy to travel further afield.
My fees are based on the Society Of Authors recommendations .http://www.societyofauthors.org/rates-and-guidelines
What people have written about some of my books….
Ship's Cat Doris – A charming read.(Books For Keeps )
Absorbing and satisfying.(Carousel )
Beryl Goes Wild – Told in a realistic but sympathetic style throughout, the book is rich in opportunities for discussion and reflection about themes all of which are pertinent to children today. Well worth buying for the library and also the classroom. (Books for Keeps )
.. packed with adventure and mystery. (School librarian )
slightly kookie and totally hilarious – we want more Beryl books, please! (National Geographic Kids )
Together – A heart-lifting story of friendship from a much-loved author. (Family Interest magazine )
I Love You Muddy Bear – Funny and involving treatment of a familiar domestic drama. (Bournemouth Daily Echo )
Matty in a Mess – Simmons' painterly illustrations strengthen the story with their bright, vibrant colours for the characters in contrast to more muted shades for the background. (Books for Keeps )
The team of Miriam Moss and Jane Simmons create a second Matty and Millie story with Matty in a Mess when the neat and orderly one of the pair discovers the fun of an occasional relaxation of standards. (The School Librarian )
Little Fern's First Winter – A gorgeously cosy tale . . . makes you just want to snuggle and cuddle up together. (Junior )
Ebb and Flo
 – Jane Simmons infuses her textured washes with the warmth of summer nights in Ebb and Flo and the Sea Monster, the fourth adventure of irresistible little Flo and her dog Ebb, an empathetic tale of the fears and delights of a child camping on a beach. (Sunday Times )
New author-illustrators with real star quality are rare, so Simmons is a real find. (The Herald)
Daisy – The perfect picture book for Easter – unusual perspectives and some animal noises in a simple text – 'It's very saleable,' says Sonia Benster, 'especially with her following'. (The Bookseller)
…this book is full of luminous colour, strong shapes, and real spirit. (The Independent)
Simmons' illustrations are rich with sweeping brush strokes and expression, clever use of closeups and panoramic views, while little Daisy perfectly captures the innocent inquisitiveness of youth.  (Junior)
Daisy is an inspired creation! (The Independent )
Jane Simmons's illustrations are so sumptuous, and the colours so tempting, that one might almost be looking at someone's dream. Children will be enchanted by this adventure. (The Guardian )
A straightforward story, awash with rich, colourful illustrations (Armadillo)
What my Publishers have written

…
The success of Jane's Daisy books has been phenomenal; over 2 million copies of Daisy have been sold, and Come On, Daisy won the Smarties Silver Award, and was shortlisted for the Mother Goose Award, the Children's Book Award and Highly Commended for the Kate Greenaway Medal. Jane's adorable Ebb and Flo books have now been animated and can be seen regularly on Channel Five's Milkshake slot.The little duck with the big feet is loved the world over!
Jane Simmons first came to fame with her delightful picture books about Daisy the Duck, which went on to become best-sellers across the world.