I have always used the world around me for my stories. When I wrote and painted COME ON DAISY I was living on a boat on the river Camb in Cambridgeshire. The paintings came from everything I could see out of my window and from the ducklings that swam around my boat. They were always getting lost, just like a friend's child who nearly got lost in the market when we were walking through it.
In TOGETHER I used ideas from my two dogs that lived with me at that time, as you can see the dogs in the book are based on the real life ones.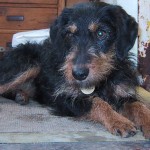 Pip was a stray in France and still lives with us.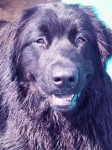 Daisy grew up on the boat when we first came to France.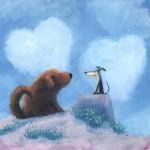 They were very different, but became great friends.