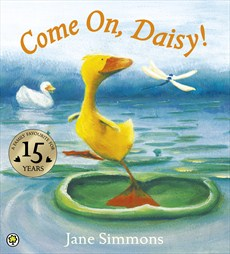 Daisy tries to stay with Mamma Duck, but there is just so much she wants to look at and play with. Suddenly, she is all alone…
"A simple but universal idea, fabulously illustrated." – Come On, Daisy / Sunday Telegraph
"A neat plot, a playful text and sensuous visual effects." – Come On, Daisy/ Times Educational Supplement
"Short, simple text combined with brightly coloured, sunny illustrations make this a perfect book for toddlers and younger children. There's a useful lesson there for young wanderers too." — Come On, Daisy/ Mad about Books
Here's a link to some Daisy activity sheets
http://www.hachettechildrens.co.uk/Downloads/OrchardBooks/come_on_daisy_activity_sheets.page
  <<< Click here to buy original Come On Daisy artwork.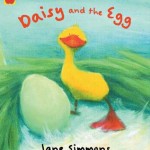 1999 Daisy and the Egg. Daisy helps Auntie to look after Mamma's egg. Something's inside, what could it be?
"This book is full of luminous colour, strong shapes, and real spirit." – Daisy and the Egg / Independent
"The illustrations are gorgeous, and Daisy's concern for the egg is very touching." – Daisy and the Egg/ Practical Parenting
"Exuberant illustrations and sensitive text." – Daisy and the Egg/ Bookseller
"Simmons speaks straight to her audience through her dynamic yet affectionate pictures." "Delightfully appealing." – Daisy and the Egg/ Books for Keeps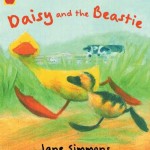 2000 Daisy and the Beastie. There's a Beastie lurking in Grandpa's farm. Daisy and Pip search high and low, but do they find it?.
"Anything but boring. Jane Simmons, already a deserved award-winner, is just so funny. Everyone will surely be taken by her Daisy, the duck with outsized feet and too much curiosity." Daisy and the Beastie/ The Independent.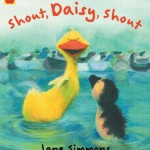 2002 Shout Daisy Shout!
"With her signature sweeping brush strokes and wider range of colours, Simmons manages to convey both anxiety and calmness with her paintbrush alone."  Shout Daisy Shout/Financial Times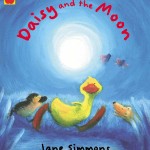 2004 Daisy and the Moon. Daisy can't sleep, but it's a bright moonlit night when things flutter and squeak.
"Daisy is an inspired creation." Daisy and the Moon / Independent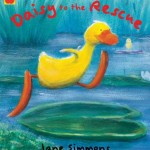 2006 Daisy to the Rescue.
"Jane Simmons's illustrations are so sumptuous, and the colours so tempting, that one might almost be looking at someone's dream. Children will be enchanted by this adventure." Daisy to the Rescue/The Guardian 
  2003
Brought to life in five 3D scenes. The carousel opens out into a full circle, packed with Daisy's adventures throughout the day. When it's time for Daisy and Pip to have their tea and a bedtime story, they are so busy having fun that Mamma Duck has difficulty getting them home. But by the time Daisy and Pip are snuggled under Mamma's wing they are so tired out after their long day that they don't even hear her say "goodnight".